Some flashback material for old school electro and synth type madness!!! Click right
here
for a mix that just makes me wanna bash someone the fuck out right now!!! Amazing mix people!!
John Carpenter - Police State
Logic System - Automatic Collect Automatic Correct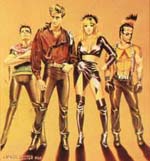 Simple Minds - Fear of Gods
Xenon - Xenon Galaxy (Theme Version)
John Carpenter - The End (remix)
Smiles - Pendulum (Space Version)
Fashion - Mutant Dance Move
Night Moves - Transdance
Xymox - Scum (Dance Mix)
Project One - Look Out (Project Mix)
Front 242 - Take One
Visage - Fade To Grey
Ministry - Primental
Intro - Lost mix (Muzak Superior)
Vision - Lucifer's Friend (Extended)
Re-Flex - Flex It!
Wet - That's The Game (Instrumental)
Stroke - Tokyo Amazon (Inst)
Black Devil - One To Choose
the League Unlimited Orchestra - Things That Dreams Are Made Of